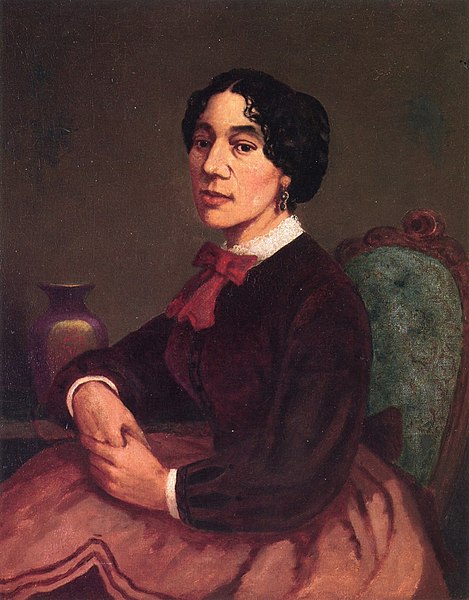 He was eight years her junior, an aspiring painter. She was a businesswoman and abolitionist, a daughter of doubly marginal heritage: black and Narragansett. He was black too, born in Canada to a Barbadian father and a mother of murkily Scottish origin. With few opportunities for painters of color in the antebellum era, he began barbering at her salon.
Four years later, Edward Bannister and Christiana Carteaux were married.
They moved to Providence in 1870. Madam Bannister, as she was professionally known, continued her profitable venture as a "hair doctress."
Financially empowered by his wife's success, Edward Bannister's art career took off. He was awarded a First Place prize in the 1876 Philadelphia Centennial, though this triumph foreshadowed later obscurity. Bannister's winning painting remains lost. Such was an omen for his notability in the next century, though as another millennium approached, a series of successful New York shows renewed public interest.
"Many of his paintings have changed hands since [the 1990s] and some are now more readily accessible," said Nancy Whipple Grinnell, curator emerita of the Newport Art Museum. "[Bannister] is heavily represented in the Smithsonian Museum of American Art and his paintings sell reliably at auction, unlike other American painters these days."
Grinnell corralled 19 of Bannister's oil paintings for an exhibit at North Kingstown's Gilbert Stuart Museum, on view through Oct. 8. The selections come from numerous collections, including the RISD Museum, which loaned the most crucial piece: Bannister's portrait of Christiana.
"She was the woman behind the man," Grinnell said, and acknowledges the portrait as "the genesis of the exhibition." Indeed, the show's adoring title, "My Greatest Successes Have Come Through Her," explicitly references Bannister's appreciation of the couple's "artistic partnership."
Bannister is known for his landscapes, and they comprise the exhibit's bulk. Many of his paintings were sourced from Rhode Island scenery. Consider the shining horizon in "The Path Home," courtesy of Newport's Paradise Valley. Bannister had found his oasis in the Narragansett Bay: a place to sail, sketch and observe.
In Grinnell's words: "He has a way with clouds, sky and water."
Bannister's canvases are diverse, alluding to the atmospherics of Impressionism and Tonalism, as well as the Barbizon school's realism. Grinnell admires his range, something Bannister achieved without the education his white peers enjoyed.
Racism suppressed Bannister's efforts during and after his life, but his paintings were practically European in flavor. In 1978, scholar Joseph T. Skerrett wrote of the "clearly raceless quality" of Bannister's landscapes. He further evaluated the artist as "a man without great passions — at least insofar as his art might express them — but a man with a poetic sensibility and vigorous and unsentimental interest in nature."
That might describe "The Old Home," which eschews the nearly pyrotechnic color of peak Impressionism for a more Cézanne-like objectivity. It is not exactly dreamy, nor passionless, but there is longing in its distance and perspective, framed by soaring clouds.
The portrait of Christiana Bannister is even more measured, presenting a woman as refined as she is unreachable, sentenced to eternal sitting. The lack of overt emotion invites our unanswerable questions. The portrait's formality echoes Madam Bannister's life, which was largely undocumented. What survived are public records, and hair care ads placed in abolitionist newspapers.
The records at least evince Christiana's lifelong activism. One of her later projects was founding the Home for Aged Colored Women in 1890. She moved there herself in 1902, a year after Edward died. It wasn't a long stay. Eight days' time saw her declared "violently insane." More likely, she was suffering from dementia.
Madame Bannister was sent to the state asylum in Cranston. In three months she was dead and, soon after, buried alongside her husband. While Christiana's grave is unmarked, a monument looms over Edward's.
Optimists like to assume that history obeys karma, that time and memory correct injustice. That Madame Bannister ended up poor and institutionalized, long footnoted to her husband's fame, suggests otherwise.
Still, we have Bannister's portrait of his beloved wife, now fittingly on view in her hometown. Grinnell was wise to make it the exhibit's centerpiece. Portraits are a minority in Bannister's oeuvre, but the mere existence of this one might evoke what Edward felt for Christiana: warmth, light, composure — the same steady beauties he unearthed via landscape. Without her, the other paintings may have never manifested. In a room full of soil, sea, and air, Christiana is the terra firma.
-30-
Reprinted from Mercury (August 2, 2018 edition)
PDF of print edition (first page only)
Editor: Janine Weisman